The Sheriff's Office never calls or emails you to notify you of a warrant or ask for money. If in doubt, always call to verify before you provide information over the phone or through email.
Undersheriff Rocky Ferdig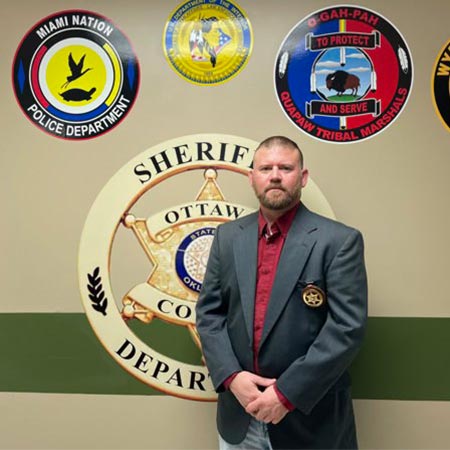 Rocky's law enforcement career began in 2002 and includes:
Chief of Police – North Miami Police Department
Lieutenant and K9 handler – Commerce Police Department
Narcotics Investigator – Ottawa County Sheriff's Office
Served as a cross commissioned Deputy US Marshal
Joined the US Army Reserves and served from March 2003 to March 2012 - Assigned to the 414th MP Company Joplin, MO
Deployed to Iraq September 2005 to December 2006
CLEET Certifications
NRA Firearms Instructor
Basic Instructor
Meth lab Certified
Criminal Investigator Certified
Rocky grew up on Timberhill, attending Bluejacket Public Schools, Panhandle State University, and Grand Canyon University. Rocky, with his wife and two children, live on a small farm in rural Commerce area where he and a business partner own C&F Bucking Bulls and raise rodeo cattle. In his spare time, he enjoys hunting, fishing, and rodeo.